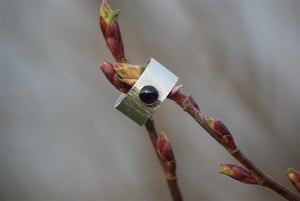 £

50.00
These sterling silver and semi precious gemstone rings are simple and elegant to wear.
Each ring is approximately 1cm in width and is hand-textured to give the band interest and warmth.
The pictured ring contains an amethyst but is available in a range of gemstones.
Please email me your ring size.
Each ring is beautifully presented in a simple stylish case and individually sewn envelope. Each envelope is made personally by me from vintage cloth and buttons to give a unique finish and presentation (see image 2 for example).