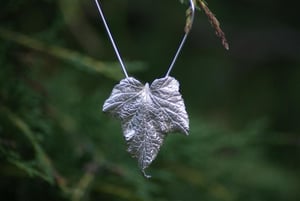 £

65.00
This leaf pendant captures the simple beauty of nature.
The fine detail of the leaf is beautifully represented giving a tactile, decorative finish. Each pendant is as unique as the leaf it comes from and although they look delicate each leaf has been hardened and polished to ensure that they are strong.
This leaf measures approximately 47mm by 35mm.
This design comes with a 16" sterling silver necklace (an 18" necklace can be provided instead, on request). You can see how naturally the pendants hang in the example photograph provided.
Each necklace is beautifully presented in a simple stylish case and individually sewn envelope. Each envelope is made personally by me from vintage cloth and buttons to give a unique finish and presentation (see example image).